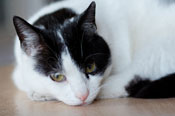 We offer end of life support to those pets who are terminally ill or geriatric pets. This type of veterinary care is focused on the comfort of your pet, not at finding a cure for his or her disease. Our goal is to focus on comfort and maintaining the human animal bond during the end-of -life stages.
Saying goodbye to your beloved pet is never easy. Here at All Creatures Veterinary, we understand how difficult end of life decisions are. We will work with you to ensure your pet's comfort and dignity during his or her last days and final moments.
Our staff of compassionate, caring professionals are here to support you through this difficult time.
Please see our Blog article, Beyond the Rainbow Bridge, for ways to honor a deceased beloved pet – other ways pet parents can honor their pet- photo collage, memory journal, bracelet of old ID/pet tags. resources for handling pet loss- adults, children.