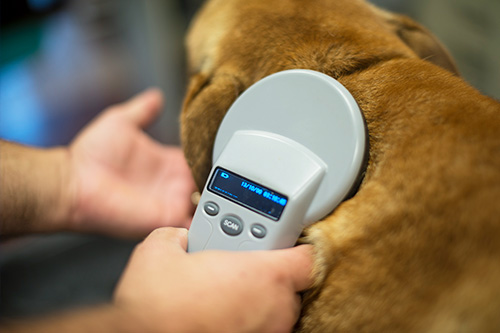 We offer pet microchipping for dogs and cats at All Creatures Veterinary Clinic. The procedure is completely safe and fast and no more painful for your pet then getting a standard injection.
Dog Microchipping and Cat Microchipping Helps Identify Your Pet
Dog microchipping and cat microchipping can help identify your pet if he or she gets lost, runs away or is stolen. Unlike collars and tags, microchips cannot fall off your pet, and once your pet is found, all that needs to be done is a quick scan. Once your pet's chip is scanned, an ID number appears. This allows the vet, shelter employee or rescue worker to locate the chip's manufacturer, call the number and report your pet found.
Once Implanted, Your Pet Will Not Need Another Chip
Microchips do not contain power supplies. This means that the chip cannot run out of battery, and many contain anti-migratory technology that prevents the chip from shifting to another part of your pet's body. These two benefits mean that your pet will only need one microchip throughout his or her life.
Some Chip Manufacturers Offer Travel Assistance
If your pet gets lost or stolen and taken far away from your home, many chip manufacturers offer travel assistance. This monetary assistance is designed to help make it easier to reunite your family with your beloved pet.

Microchipping your pet at All Creatures Veterinary Clinic is fast, affordable and convenient. You can schedule a separate microchipping appointment or ask for a microchip during your pet's wellness exam or schedule during a routine surgery (spay or neuter). Our vet can also answer all of your questions about microchips and help you keep your contact information up-to-date.
To schedule an appointment for your pet's microchip, call us at 402-399-8224.
Why don't you get your pet a microchip?